John Wayne Straight Shooter Porcelain Stein
We knew the moment he first appeared on the scene, whether astride a horse, or walking with his characteristic amble across the silver screen, that John Wayne would make things right. The essence of an American hero in every way, he rose to become the icon of the American West. Now, you can…
Last updated on August 8, 2019 12:19 pm
John Wayne, the Duke, was larger than life, the epitome of self-reliance and an icon of the American West. This limited edition John Wayne Straight Shooter Porcelain Stein features an oval-shaped full color portrait of John Wayne. The portrait is ringed by a rope, a sheriff's badge, and crossed pearl handled six shooters.
A dramatic sculpture of the Duke astride his horse sits atop the bronze colored metal alloy lid. The stein itself is crafted of porcelain and features a pistol grip handle. On the back of the stein is another graphic of John Wayne on horseback with one of his memorable quotes, "A man's got to do what a man's got to do."
This John Wayne beer stein holds 32 oz, measures 10″ tall, and is drink safe.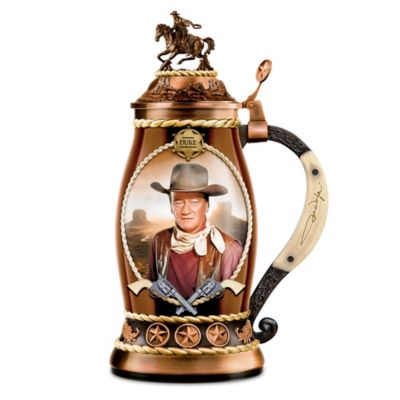 Bradfordexchange.com